Greensboro, NC
(336) 601-0879
A Little Bit About Me and My Company
My name is Hernan Durango and my company is Durango Home Repair and Remodeling.
From large jobs – like converting a totally unfinished basement (as in, no walls or floor, just a dug out area under a home) into a five room space with kitchen, bathroom, laundry room, playroom and workshop, to small jobs – like building a dog house – I've done a bit of everything.
I don't consider jobs as 'too small' or inconsequential. And if I feel mine is not the best company to handle a project, I'm comfortable letting you know. I've also worked with area Realtors® getting properties repaired per inspection reports.
My client base has been built totally from referrals and word of mouth. I'm happy to provide references upon request.
On a personal note, I'm a native of Colombia, South America, having moved here in 1980. I married a North Carolina girl who I met in Boston, Massachusetts. We have three children and have been married for over 30 years.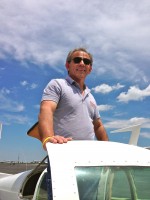 I am a general aviation pilot and fly every chance I get.
It's not that I'd rather be flying than working on houses. But…. well, actually I WOULD rather be flying.
Who wouldn't?